Navy Christmas '99: The USS Bataan Ready Group
The Shoot: Part Two
November 29, 1999
Somewhere in the Med
There are two big projects to cover this morning. One involves a "un-rep" the other a "helo hop."
An "un-rep" is an "Underway Replenishment." The US Navy is the one of the only countries in the world to refuel it's ships out at see. An oiler pulls up alongside of our ship, and passes fuel lines across. While cruising together at about 10 knots, the USS Bataan fills up as if it had just pulled to a Texaco.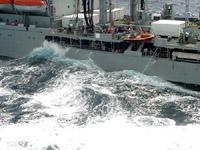 This is an UN-REP as seen from the USS Whidbey Island. The waves crashed so high, they splashed the sailors many levels up the ship. It's a challenging maneuver anytime, but during conditions like these, it's even more amazing.
As the USS Bataan and our oiler lined up, H-46 helicopters began doing "VERT-REP" or "Vertical Replenishment." The helo's come in for a low hover, while deck hands hook pallets to the bottom of the bird. This way many pallets of food and supplies can be quickly moved from one boat to another.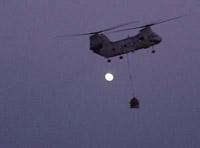 In the midst of all this replenishing, we hop aboard a H-46 and fly around for aerials.
The H-46 normally have a lot of vibration due to the two main rotors spinning in opposite directions. Today was especially shaky. Trying to hold a good aerial shot while bouncing around too a lot out of me. I was ready for a break when the flight crew told me to take my seat for landing.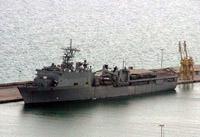 We land on the USS Whidbey Island. Amphibious ship similar to the Bataan, but much smaller and without a huge flight deck. The Whidbey carries Marines with their tanks and trucks, along with an LCAC of it's own.
The staff, including NC1 Wilson Bastidas and JO3 Monica Padluck, met us on the deck and went right to work helping us with our stories.
The main project for the Whidbey was passing out gifts. Joe and I brought a number of Christmas gifts from wives and families back in Hampton Roads, and it was our job to deliver them.
Each sailor opened their present, reacted to the gift, and then passed on a holiday wish to their families back home.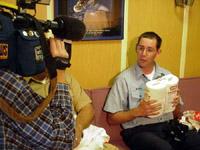 Some of the gifts were very funny. FC2 Christopher Whipple has probably dealt with "Mr. Whipple" jokes all his life, but that didn't stop his wife from sending package of Charmin draped in lingerie. I'm assuming in this instance he is supposed to "squeeze the Charmin!"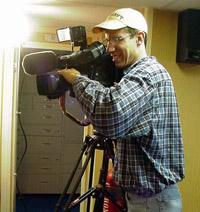 A Chief who is a huge fan of Auburn received an eagle sculpture that he plans to put up on his desk, while many others walked away with WWF Wrestling action figures.
The Command Master Chief got a fruit cake from home along with a reindeer that sings. Ho Ho Ho. Merry Christmas.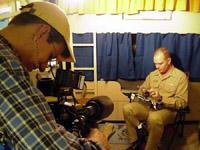 The ships Engineer was stressed out by his stress relief toy, and the Captain of the ship was able to pilot his toy boat.
The seaman who wished for a keyboard could only tickle 4 ivories on his Fisher Price toy piano.
The gift giving made me long for Christmas. Not so much for receiving, but for giving interesting gifts to my family and friends.
After shooting greetings from a few Marines, Joe and I are done for the day and fly back to our home on the USS Bataan.
Take care and keep in touch.