Editor note: Rick "Turdpolisher" Portier is adding a second book to his library. Not the second one he's read… the second one he's written! Here's the background he shared with me…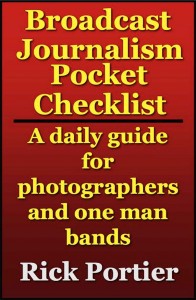 Just wanted to hip you to the new guide I just finished.
A consultant friend (I bet you never thought you'd see me use those two words together.) and I were talking the other day. We just so happened to both be working the Carnival Triumph's return to Mobile, Al. (He's also a freelance producer.) We were lamenting the the changes in the business, young producers telling veterans what to do, young reporters with no understanding of story principles, and the rise of the MMJ.
That last one has been a boon for his business. He works mostly with reporters in their first couple of jobs. We were talking about the MMJ trend moving from smaller markets all the way up the chain. Although there are lots of tools and reference material out there for reporters and anchors, there's nothing out there that boils down the essence of what TV news photographers into a simple to use guide.
It got me to thinking about how I train the MMJ's at my station and the tips that form the foundation to solid news videography. Sixteen pages later, I had a guide that he and I felt covered all the basics to get MMJ's and new photographers on the road to shooting successful stories. The guide covers basic camera settings and care, shooting one-man interviews and stand-ups, basic composition and shot variety, sequencing, and beginning lighting. None of the tips are earth-shattering. They are the things veteran photogs do every day.  Hell, I stole most of them from the photogs who trained me through the years.