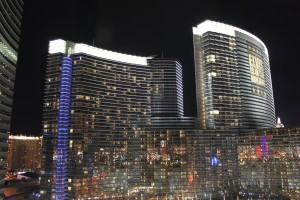 The advantage of being stuck on east coast time is you can wake up before the sunrises in Pacific time and not feel as much pain. I'm sitting in my makeshift office at the Vdara hotel getting ready to hit the NAB floor (gorgeous view, by the way).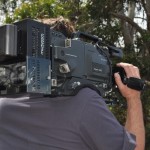 Lots of new products to investigate. Amanda Emily has already found a unique new product. Mushroom Networks has built a "Live U" type box that fits on the back of your camera. (I'm sure they're going to hate being compared to their competitor, but Live U has become the best known name in cell signal bandwidth broadcasting.) We're getting closer and closer to the day of Max Headroom.
I'm still waiting for someone to make a docking station for my iphone on the back of my HPX-2000 camera. The new vimeo app lets you shoot video, edit it and upload it from the phone. The speed and quality is pretty good… I just wish I should shoot the video with a REAL camera with REAL glass and REAL sound. I'll probably see that next year.
In the meantime I'm going small and light on the floor. I'm going to play with the Vimeo app and see if I can get some videos online from the floor. Check out the videos at: http://b-roll.net/go/nabvid. The sound and quality may not be the best – but we'll try to be fast.
And don't forget the b-roll.net BASH is tonight. Can't wait to share the fun on the site.
Keep tabs on me on Twitter (@b_roll_net) and facebook (http://www.facebook.com/b.roll.net).