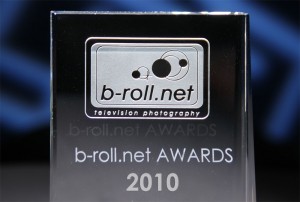 The last few hours to vote in the b-roll.net AWARDS is upon us. Voting stops at 12 noon Eastern Time on Saturday, February 12. 2011. Check out the contest page and let us know which clip is the best.
Thanks again to Al Tompkins and his book "Aim for the Heart" for sponsoring this year's AWARDS. We'll proudly send the b-roll.net TROPHY to the this year's b-roller of the YEAR.
Voting stops at noon and we'll have results soon after that…. good luck to all.