These instructions assume you've already uploaded your clip. If you need help uploading your clip, check out these tips.
Uploading your video to b-roll.net TV is only half the fun. After your beautiful clip is in our system, we want to make sure it's entered into the correct category.
When you're uploading your video, you are asked what "channel" you'd like the video to be in. Please keep in mind that this is not the contest categories. You must edit your clip to enter the b-roll.net AWARDS.
Step 1) Login in at: http://b-roll.net/tv and go to "My Videos." This will take you to a page filled with all of your uploaded videos.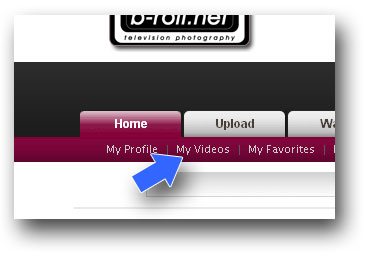 Step 2) Select the clip you want to enter in the contest, and click on the "Edit" button. This takes you to a page letting you change the title, description and keywords.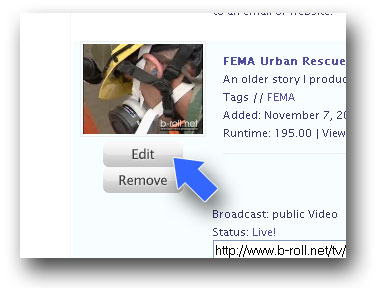 Step 3) At the top of the "Edit" page, you will see a blue box with "b-roll.net AWARDS" at the top. Follow the directions and "Click here to enter this video in the contest." This will open up a pop up window for category selection. If you don't see the pop-up, you may need to temporarily remove any browser pop-up blockers.
Step 4) In the pop-up window is a list of the 10 categories that you can enter. Select a category and press "Submit." If you don't get any error messages, and the system says "Your video has been entered!" than you have been successful.
Please keep in mind that you can not have more than 2 videos in a single category. If you need to remove a story from a category, select "NONE." When you're done, you can close the pop-up window by clicking on the "X" in the top right corner.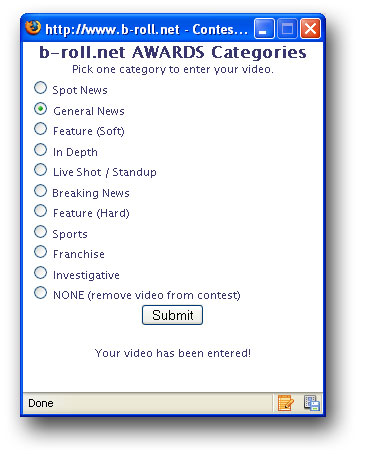 Step 5) After you refresh your Edit page, you should see "This video has been entered..." in the blue box.

Step 6) If you look at your "My Videos" page, all stories that are officially in the contest will say "This story is entered in…" followed by the category.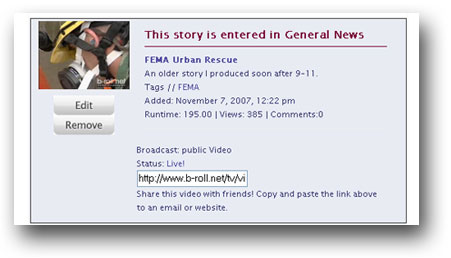 At 12 noon ET on 1/15/11, voting begins in the b-roll.net AWARDS. The system will lock out any additional entries and prevent you from changing categories. Please double check that your story is in the running. I'd hate to have you lose your change to win the b-roll.net AWARDS!
Check out: http://b-roll.net/awards for all the rules and latest updates.