I'm excited to announce that Poynter Institute faculty member (and frequent contributor to b-roll.net) Al Tompkins is sponsoring the b-roll.net AWARDS. With his help, we're keeping our free video contest running strong.
Thanks, Al…
Now everyone else go buy his book!
_________________________________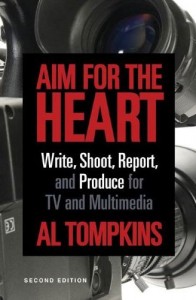 Order NOW, Aim for the Heart 2nd Edition by Al Tompkins, The Poynter Institute.
This is a guide for anybody who has to write, shoot, report or produce for TV and multimedia. The book contains practical advice from B-Roller favorites including CBS's Les Rose and the head B-Roller himself, Kevin Johnson as well as NPPA and B-roller POY Darren Durlach. KARE-11's Boyd Huppert and NBC's Bob Dotson offer practical writing advice. NBC's Brian Williams calls it "An indispensable guide to our craft–from an indispensable guy in our craft."
Newsu.org is building a companion interactive website to accompany the book.
Check it out at: http://www.cqpress.com/product/Aim.html