Andy Shipsides, over at Cine Technica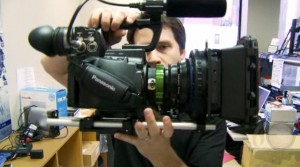 recently got to play with the new Panasonic AG-AF100. This camera uses a 4/3″ image pickup for better low light and depth of field performance. At the same time, it accepts a wide variety of high-performance lenses.
From my perspective, this looks like the future hybrid of the image performance of the DSLR in the video camera form factor we're used to. The concept has great potential.
Check out Andy's video a look at the camera itself. Coming soon will be test footage from the camera itself.