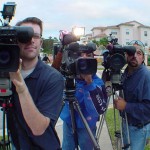 I don't know that you can consider b-roll.net an industry metric, but we are seeing a few more job listings submitted recently. About a year ago, when the economy was at rock bottom, we would go 2 or 3 months without a new listing. Now we have a decent sampling – with more added each week.
Check out our listings at: http://b-roll.net/jobs/
Are companies expanding staffs? Or are they just filling in positions that have been left vacant for months? What does this say about the industry?