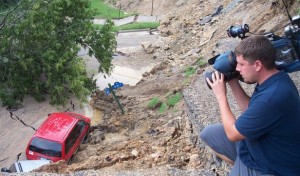 From: Popular Mechanics
We fight these battles every day. We want to get the images – and often someone doesn't want those images acquired.
It is normally someone in a uniform of a security or police service telling us to stop shooting. Depending on the necessity, we often have to shift between knocking out a few quick shots – and casually abiding  by their unreasonable restrictions OR truly fighting for our constitutional rights. With deadlines as they are, I normally don't have time to truly push the issue – just to get exteriors of a building or shots of a business. But when it comes to the recent issues with BP restricting access, important information – that affects everybody – was being illegally blocked.
Popular Mechanics recently put together a simple explanation of our rights to public photography.
"Legally, it's pretty much always okay to take photos in a public place as long as you're not physically interfering with traffic or police operations. As Bert Krages, an attorney who specializes in photography-related legal problems and wrote Legal Handbook for Photographers, says, "The general rule is that if something is in a public place, you're entitled to photograph it." What's more, though national-security laws are often invoked when quashing photographers, Krages explains that "the Patriot Act does not restrict photography; neither does the Homeland Security Act." But this doesn't stop people from interfering with photographers, even in settings that don't seem much like national-security zones."
Share your experiences on the b-roll.net FORUM.