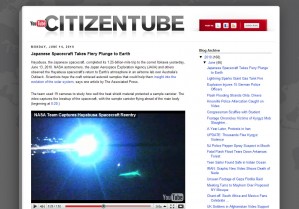 From: Mashable
It was only a matter of time.
The online video behemoth that is YouTube, has decided to officially play in the news business. CitizenTube is YouTube's video news aggregator and combs through its gigabytes of uploaded submissions to find video of the news of the day. Most of it is "citizen journalism" but some professional work gets in there as well.
To quote the YouTube blog…
"We'll be working with the University of California at Berkeley's Graduate School of Journalism to track news as it breaks on YouTube. The news feed will provide a stream of breaking news videos on YouTube, with a focus on strong visuals, non-traditional sources and the very latest uploads: videos like this natural gas well explosion in North Texas, this citizen's election fraud investigation in New Jersey, this activist's painful run-in with the sharp end of a fisherman's hook in the Mediterranean sea, or even this run-away elephant in Zurich, Switzerland."
There is some comfort to the fact that it is moderated by Berkeley Graduate Students. Work will hopefully be displayed that is newsworthy – rather than what's getting the most clicks on YouTube.
You can bring your work to the attention of the producers / editors by tweeting @CitizenTube.