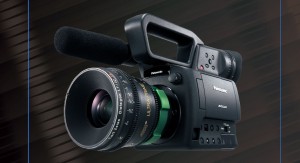 The folks at DPReview.com have uncovered new details about the Panasonic AG-AF100 Micro Four Thirds camcorder.
Basically, this is Panasonic's first attempt at a merger of best of DSLR and video cameras. The lens selection and larger sensor of a DSLR in a practical video camera configuration with XLR and HD-SDI connections. Rumors to run around $6,000 – it could be an economical performance camera.
From the press release…
"The AF100 incorporates a 4/3-inch, 16:9 MOS imager. The camcorder records 1080/60i, 50i, 30p, 25p and 24p (native) and 720/60p, 50p, 30p, 25p and 24p (native) in AVCHD's highest-quality PH mode (maximum 24Mbps). Ready for global production standards, the camcorder is 60Hz and 50Hz switchable.
The AF100 maximizes the potential of its high-resolution imager with built-in ND filtering and dramatically reduced video aliasing. Standard professional interfaces include HD-SDI out, HDMI, time code recording, built-in stereo microphone and USB 2.0. The AF100 features two XLR inputs with +48V Phantom Power capability, 48-kHz/16-bit two-channel digital audio recording and supports LPCM/Dolby-AC3."