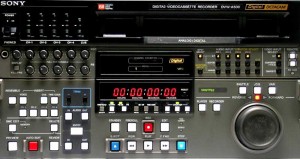 Selling a Sony Digibeta DVW-A500 with stock for $12,000.  The DVW-A500 features Betacam and Betacam SP playback capability, pre-read capability for video and audio, serial digital V/A interface (SMPTE 259M) along with built-in Component analog video and audio interfaces, and an optional Composite analog input (BKDW-505). Built-in A/D and D/A converters for both audio and video signals allow for direct interfacing with analog equipment.
Features:
Superb Picture Quality
High Quality Audio
Betacam and Betacam SP® Playback Capability
Versatile Integration into Current Analog Systems
Digital Jog Sound
High Speed Picture Search
Dynamic Tracking Playback
Channel Condition Monitoring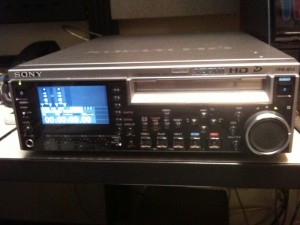 Selling a barely used Sony XDCAM PDW-F70 HD Recorder deck with stock for $10,000.
Inputs: HD-SDI, AES/EBU audio, analog audio, timecode, reference
Outputs: HD-SDI, Y/Pb/Pr, SD-SDI, RGB, SD analog composite, AES/EBU
audio, analog audio, timecode, XGA/VGA, audio monitor (L/R)
Other interfaces: RS-422A, RS-232C, Gigabit Ethernet (option)
i.LINK interface that supports File Access Mode and AV/C (DV stream) output
HD down-conversion capability: DV output via i.LINK (DV OUT) port or
baseband SD output via SD-SDI, analog component or composite ports
16:9, 3.5-inch type color LCD display
A simple remote commander unit is supplied
Please contact Michael if interested.
818-209-0059