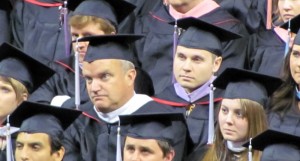 I'm not sure how he does it.
Les Rose is a photog with CBS News in LA. He travels the world covering events alongside some of the best story-tellers in the business. He speaks, teaches and spreads his love of people and photojournalism whenever he can. He still finds time to spend with his beautiful family. Somehow over the past couple years he's squeezed a few extra hours in his day to complete a Master's Degree course load at the University of Nebraska.
Again, I'm not sure how he does it.
Well, this past weekend, Rose got to don his cap and gown (a tall-size I'm sure – Les is over 6 feet tall) and walk across the stage to receive his Master's Diploma.
Congratulations to him – and his family – who may actually see him a few more hours each day.
[flashvideo file=http://www.b-roll.net/tv/flvideo/3005.flv /]