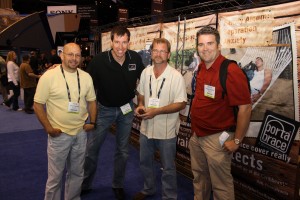 Greatings from the floor of NAB 2010.
It's an action packed floor filled with in-your-face products – mainly 3D. Instead of looking for trombones pushing their way out of the screen, I've started looking for more ready to use NOW tools.
We've talked with Live U, Anton Bauer, Miller, Portabrace, Zylight, Marshall, Litepanel, Xtender, Bron and GoPro. Keep tabs on our twitter feed for the latest photos from my blurry iPhone.
I ran into Team Lenslinger and more interviews were done in more directions from more varieties of cameras than ever before. That's what happens when too many camera geeks gather in one space. Videos will be on our page at: http://b-roll.net/go/live/ and on lenslinger.com.
Ok… back to the floor for me. Stay tuned for the b-roll.net BASH – streamed live (if I can make it work) from 9-12mid ET.
Sorry for the sideways shots… can't edit them on the fly. Stay tuned for a right-side-up world.