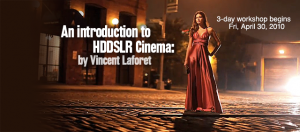 From: creativeLIVE
Love it or hate, the DSLR revolution is shaking up digital filmaking. The folks at creativeLIVE want to help you learn the ropes with DSLR video pioneer, Vincent Laforet.
The class is free if you watch it live – and reasonably priced if you watch the replay. Check it out tomorrow starting at 12pm ET. (Update – the class starts at NOON ET)
Course: An introduction to HDDSLR Cinema.
Instructor: Vincent Laforet
Dates: Friday, April 30 – Sunday, May 2
In this course, first-time filmmakers and photographers making the transition into video will be introduced to many of the core building blocks necessary to make their first short films.
Vincent will provide an introduction to cinema theory and present information about gear designed to provide consistent results when using the latest HDDSLR cameras.