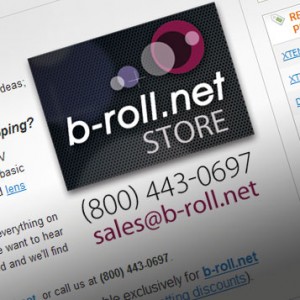 The Walmart or Target of video production products is closed for the week for Passover. B and H Photo Video, one of the largest retailers of video gear has shut down its website and NYC store front until April 6, 2010. I'm sure the staff appreciates the time off with their families, but you're probably asking yourself, "what if I need some gear"?
Try the b-roll.net STORE!
We're stocking the shelves with more goodies every day. We now carry the Xtender articulating arm, tripods from Miller Camera Support, and will soon have innovative adapters from our latest sponsor 5PinProAudio. All this and more and very competitive prices.
Stay tuned for new additions – and as always – tell us what you'd like to see on the shelves.