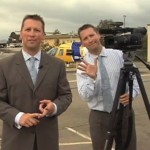 From: b-roll.net FORUM
You have to hand it to Joe Little.  His one-man-band (or "Digital Correspondent") stories make it look easy – and strangely, a little fun. He's mastered creative shooting and editing to the point that you can't tell he's doing it all himself.
His latest video is a "day in the life" story – shot written and edited in a day. Well done, Joe…
You can watch more of his work on his YouTube page.