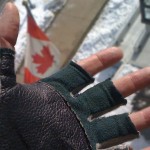 Ten years  ago I developed what I thought was the perfect cold weather glove solution. I wrote in the first "cold weather tips" about my tried and true Patagonia fingerless gloves with thin polypropylene glove liners. These gloves got me through some hard-core winters (as hardcore as the Mid-Atlantic region can dish out).
Fast forward to a year ago, when I jumped into the smart-phone arena with a touch screen iPhone. I discovered a flaw in my system. Due to the swiping motion need to activate your phone, you can't answer an iPhone with gloves on.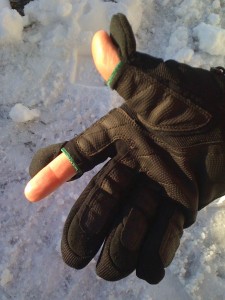 The search began for replacement gloves.
After doing a little research, I decided to go with a pair of gloves from freehands. Made specifically for iPhones and other touch-screen phones, the freehands Stretch are complete gloves with removable caps on the thumb and index finger. You get warmer hands and dexterity on your essential digits.
The correct pair of gloves arrived (more on that later) just in time for the Snoverkill here in DC. I was forced to test the gloves whether I wanted to or not. The freehands proved to work great. The finger caps are easy enough to remove that you can leave your fingers "fully-clothed" until the last minute. Even though I thought I'd miss having a "naked" ring finger for focus and iris, I found that all I really needed was a finger and thumb.
Unlike the rest of the glove, the finger "caps" are neoprene. This gives them a bit of stretch to get out of the way – but also cause  your finger tips to sweat in warm situations. Another interesting side effect of this design, the caps are flexible and let air in through the gaps – even with your fingers covered.
The gloves came from Gloves-Online, and I'm totally happy with their customer support. I can't say the same for the quality-control with the manufacturer, freehands.
The first pair I ordered had bad sewing on the edges that was unraveling. A quick call to Gloves-Online and I had a new pair sent to me. This second pair proved to be well constructed, except the package contained 2 right-hand gloves. Now I've been told I dance like I have 2 left feet – but I'm at a loss for how to use 2 right hands. Another call – and another pair in the mail. This time containing a RIGHT and a LEFT.
Except for the quality control of freehands, I've very happy with these gloves. They are perfect for shooting in less than fair weather and don't make me look like a panhandler like my old Patagonias.