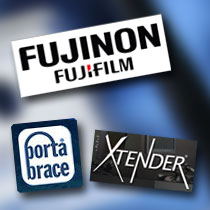 We are excited to announce that Fujinon Broadcast – makers of fine motion picture lenses – and long-time sponsors of b-roll.net – have signed on to be a GOLD sponsor of the b-roll.net AWARDS. Their assistance will help us reward the impressive work being entered, as we speak, in the b-roll.net AWARDS.
Fujinon joins the b-roll.net AWARDS mast head along with Portabrace and Xtender – who are offering up great prizes for our winners.
So, thanks again to the sponsors – and get entering! You have until Saturday (1/16) to get your stories into the contest!
Good luck to all!
2010 AWARDS Voting Begins [fergcorp_cdt_single date="sat 16 Jan 2010 12:00:00 -500″].