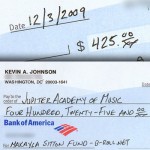 Thanks to everyone who gave money to the Sitton family. After recommendations from Jim Sitton's colleagues at WPTV, we've decided to send the $425.00 collected to the Jupiter Academy of Music.
"Jim and Muriel Sitton know that their precious daughter would want to make a difference in the lives of other little girls. She would want other children to be given the same access to the arts (music and ballet) that she enjoyed during her life."
I was very happy to see the outpouring of support from the b-roll.net family. Thank you all very much.
Here's a copy of the letter sent to the family.
Jim was kind enough to share some of the memorial videos played at the funeral service on Saturday, December 5, 2009. Click here for a link…
All the best to the Sitton family in the coming months and years ahead.