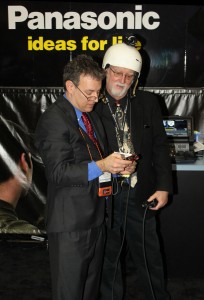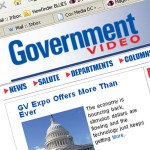 Every year, during the first week of December, Government Video, the magazine dedicated to – well –  government video has a conference and expo in DC.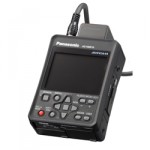 It's our own little baby NAB Show, complete with vendors, demos and new toys.
I had a chance to wander the hall for a brief time on Thursday. Panasonic has the biggest presence and they were showing off their new AVCCAM format and the AG-HMR10.
I had flashbacks of Al Franken's SNL days after seeing the guy with his helmet cam.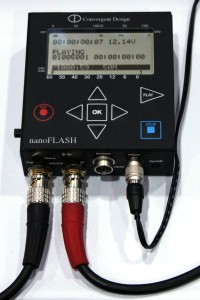 My next stop was Convergent Design. They were showing their little nanoFLASH. This little digital recording wonder has been the talk of the FORUM in past months. Basically it takes a HD-SDI or HDMI signal and records on Compact Flash cards. This is the way to share your HD video – without having to hand over expensive media like P2 Cards.
Ran into my friend Charlie Collias from Zylight demoing their full size LED panel, the IS3. According to their materials, "Four-times brighter than other LED fixtures in its class, the IS3 combines Zylight's unmatched color-mixing technology and high-quality construction to meet the demands of location and studio professionals who require an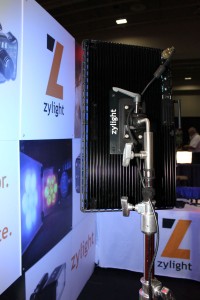 extremely bright and wide soft source, while offering all of the innovative features for which Zylight is renowned: Fully dimmable with no color shift, adjustable color temperature and color correction, unlimited color control, integrated ZyLink™ wireless control, and rugged construction for years of reliable service."
I just think it's a cool looking light, but add to that the ability to dial in any color known to man, it is just awesome. Be sure to check out the gorgeous OLED dial display on the back. It looks like a piece of expensive stereo equipment.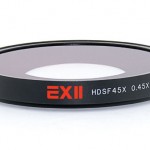 Gregg Hamlin of 16×9 Inc. had some "pretty glass" on display. Their new EXII model wide-angle lenses.These are great quality add-on lens to give you nice wide angle shots, but they're also extremely thin and light. You'll hardly know it's there.
To quote them, "16×9 Inc. upgrades its EX line of specialized lens attachments with the introduction of the high-definition-quality EXII 0.45X Super Fisheye. The new, single-element EXII 0.45X Super Fisheye offers significant improvements in design and functionality."
All that in an hour – and my feet don't hurt at all. Something tells me NAB won't be that easy.