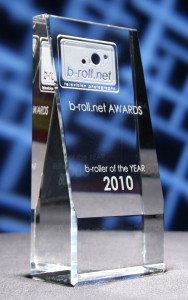 The champagne and confetti may still be on the floor from New Year's Eve, but New Year's Day marks the beginning of the  2010 b-roll.net AWARDS.
Many responses last year asked for more time to enter and judge the contest, so this year we're extending the contest schedule. Don't look at the extension as a chance to procrastinate. You should upload now!
From 12 Noon ET on January 1 until January 16, 2010 you can upload your clips and enter them in specific categories.
Round one of voting will be January 16 (12n ET) to January 30, 2010 (12n ET).
Round two of voting will be January 30 (12n ET) to February 13, 2010 (12n ET).
Also, this year, we're excited to introduce two new categories, Nat Sound and Non-News Production. We hope to see a lot of creative work in those categories.
We've worked up a quick little tutorial on how to upload your video to b-roll.net TV.
Here's how to enter your video in the right category.
Contact us if you have any questions.
The complete rules and list of categories can be found online at: http://www.b-roll.net/awards.