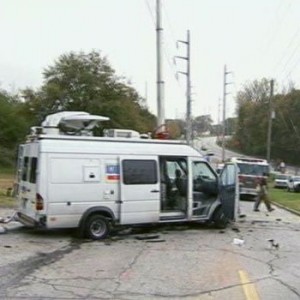 From: WSB-TV
"Two WSB-TV Channel 2 employees escaped serious injury Wednesday when their news truck exploded after touching power lines.
Channel 2 Action News reporter Tom Jones had just finished a live report with photographer Leonard Raglin at the Fulton County jail. They were driving from the jail when the mast, the telescoping pole that carries a microwave dish used to send video to the station, hit the power lines. The mast is supposed to be lowered if the truck is in motion."
Discussion of the incident can be found on the b-roll.net FORUM.
Here are some video reports from the scene.
Thanks to NEWSSHOOTER3 and supedog for the links to the video.