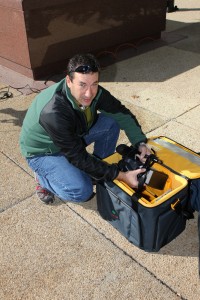 From: Les Baker
As professional video equipment gets smaller and smaller, it seems like we're carrying around a lot more of it. Tapes are out, cards and disks are in. BNCs and XLRs are working in conjunction with USBs and firewires. The laptop is competing with the sat truck. Big cameras are being replaced by smaller ones, and two-person crews have almost given way to the one-man band.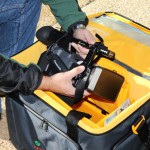 Kata is catering to this breed of videographer with the OMB-75. With internal compartments designed to be customized and plenty of pockets and pouches for cables, batteries and everything else you need to carry, this production bag does it all.
[nggallery id=8]
That being said, the OMB-75 is a little too big for my needs. I prefer something that will fit in the overhead compartment on an airplane. At 21″ x 12″ x 15″, this bag is off the mark by a few inches.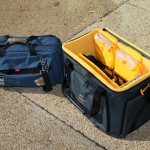 Cosmetically, it looks more like something that would keep your pizza warm than a camera case. The divider for your laptop is very convenient. I like the outer zipper pouches for a camera rain jacket or computer cables. There is a rear sleeve for a trolley to be inserted, but the trolley will cost you extra. I would have liked to see it built into the kit with retractable wheels so you can pick it up using the shoulder strap.
All in all, this bag is very practical for someone whose sole or primary camera is a small PD170 or similar. It's definitely durable and will fit the needs of many of today's new photogs, just not one who travels frequently and likes to take his cameras with him onto the plane.
Les Baker is a staff photographer for Fox News Edge. He's been shooting for 20 years and has covered stories around the world, from the death of Pope John Paul and the subway bombings in London to the Israeli Lebanese conflict, California wildfires and American Idol. He is based out of Washington, DC. He and his wife, Gina, have two children.