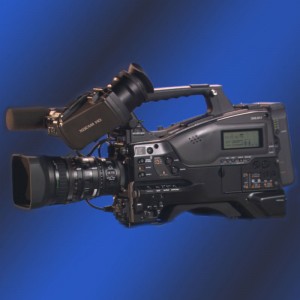 The big news finally broke yesterday (10/20) but the rumors were flying in advance. Now you can watch the video yourself and see all the glory of the new cameras.
The PMW-350 and the PMW-EX1R expand the  Sony' XDCAM EX family.
"The products include Sony's first 2/3-inch CMOS memory camcorder, the shoulder-mount model PMW-350, and the PMW-EX1R, which adds DVCAM™ recording capability as well as numerous enhancements directly resulting from customer feedback."
Join the discussion on the b-roll.net FORUM.
Here's the press release:
SONY REDEFINES THE CAPABILITIES OF SOLID-STATE PRODUCTION WITH NEW XDCAM EX CAMCORDERS
Shoulder-mount model and DVCAM Recording Address Specific Needs of Production Community
PARK RIDGE, N.J., Oct. 20, 2009 – The expanding family of Sony's XDCAM EX™ video products now includes two new camcorders that deliver new levels of creativity and flexibility for solid-state digital production.
The products include Sony's first 2/3-inch CMOS memory camcorder, the shoulder-mount model PMW-350, and the PMW-EX1R, which adds DVCAM™ recording capability as well as numerous enhancements directly resulting from customer feedback.
"Since it was first introduced, Sony designed the XDCAM EX series to be flexible enough to grow and expand as our customers' production needs change," said Bob Ott, vice president, Broadcast & Professional Audio / Video products group at Sony Electronics. "These new products redefine solid-state production, with improvements achieved in features, performance, and ergonomics."
The full shoulder-mount PMW-350 camcorder has three 2/3-inch Exmor™ full HD 1920×1080 CMOS imagers, and a sensitivity of F12. It is studio-configurable, with timecode in/out, genlock in, and HD-SDI and HDMI out. The camcorder also features a DVCAM recording option.
Its design offers professionals the best of both worlds in shoulder-mount applications: a low center of gravity and light weight to ensure stability, while maintaining a familiar, conventional operational UI layout.
With the lens-packaged model, PMW-350K, users can easily switch between auto and manual focus with a16x zoom 2/3-inch bayonet mount lens. It also offers automatic lens aberration compensation (ALAC); independent focus, zoom, iris rings; auto focus mode, manual focus assist and focal length of f 8~128mm (31.5 ~ 503mm on 35mm lens).
The PMW-EX1R, the successor to Sony's first entry into memory recording – the PMW-EX1 – adds DVCAM recording capability, as well as an HDMI output, a higher-resolution viewfinder, cache recording, and one-push auto iris.
Like its new shoulder-mount counterpart, the PMW-EX1R features a range of ergonomic enhancements, including an improved hand grip for better balance, one-click S&Q mode and easy-to-access switches.
Additional features of the EX1R include: smooth handle zoom start/stop, an image inversion feature that reverses an image upside down and left/right for a depth of field adaptor.
To enhance editing interoperability with Sony's XDCAM HD 422 camcorders, both the PMW-350 and PMW-EX1R camcorders feature 1440×1080 recording mode at 35Mbps.
Sony is also delivering new solid-state memory choices to complement these new camcorders. An affordable series of Sony's SxS PRO™ memory cards, SxS-1™ (model SBS-32G1, 32 GB) offers 800 Mbps transfer speed and supports a wide range of motion.
With an available adapter, model MEAD-MS01, Sony's Memory Stick PRO HG Duo™ HX Series media can also be used in the PMW-350 and PMW-EX1R as an emergency recording option (does not support slow motion of S&Q mode). Compatible models include: MS-HX32G (32GB), MS-HX16G (16GB), MS-HX8G (8GB) and MS-
HX4G (4GB). Sony's current camcorder models, PMW-EX1, PMW-EX3, as well as the PMW-EX30 deck, are also planned to be compatible with the new SxS-1 and Memory Stick media, through a software version upgrade available in early 2010.
A hard-disk recording unit, model PHU-120R, offers a recording capacity of 120 GB. The new PXU-MS240 mobile storage unit can be used to transfer data from SxS memory cards to the unit for nearly continuous back-up or off-load of video clips. The unit stores content on a removable hard disk drive (HDD) cartridge, model PXU-HC240, which can store up to 240 GB of data.
The software supplied with the new camcorders, Clip Browser, is also being updated to version 2.6. It features a range of new functions, including: support for new recording formats 1440×1080 (HQ), DV-AVI, and four-channel audio.
Since the XDCAM EX camcorders record acquisition parameters such as zoom, focus and iris, the new version of Clip Browser enables users to browse metadata while viewing clips as a useful reference tool. The software now offers a feature that automatically detects and corrects "flash bands" occurring in frames, and a manual mode allows users to select the frames to correct by using a "preview" function.
The following is suggested list pricing and planned availability for the new products:
• PMW-350K (with lens), $22,000, January, 2010
• PMW-350L (without lens), $20,500, January, 2010
• PMW-EX1R, $7,790, December, 2009
• MEAD-MS01, $120, December, 2009