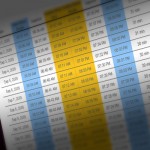 After I bragged about a "golden hour" calculator I found on the internet, Amanda Emily, photog historian and lifesaving server-tech, told me she had already built one. She kindly shared it with the b-roll community, and we're now proud to unveil the b-roll.net Golden Hour Calculator.
Even though it sounds like half-price drink time at the bar, "golden hour" is that twice daily time when the sunlight is most pleasing. Normally just after sunrise and just before the sun sets – if you have a fairly cloudless sky.
This calculator figures out where you are in the world and gives you a 30 day chart of morning and evening "golden hours" and "blue hours."  Blue hours always seem to hit right when you're doing an evening live shot and the need to change light filters increases minute by minute.
So please test out the b-roll.net Golden Hour Calculator and let us know what you think. Thanks again to Amanda Emily for her hard work coding this helpful resource.
And continued appreciation for her helping to keep b-roll.net free of hackers…