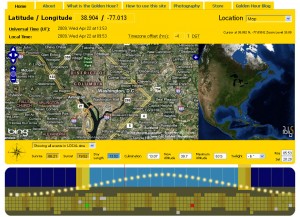 From: Lifehacker
Wanna shoot that stand-up with just the perfect natural light? Try the Golden Hour Calculator. Upon hitting the homepage, the website tries to figure out where you are and then tell you what is the best time of day to get that beautiful golden sunlight.
Not only does it tell you today's information, but you can look through the calendar to plan out your November sweeps stories as well.
Be sure to read through our White Balancing tips for ideas on getting your camera ready for beautiful images.
Check it out and tell us what you think.