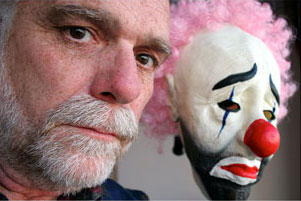 Congratulations to Denver's Kevin Scofield of KDVR-TV and KWGN-TV for winning the 2009 Sprague Award from the NPPA. It was presented earlier this month at the NPPA Convention in Las Vegas, NV.
According to the NPPA website, "the Sprague Award is NPPA's highest honor and it recognizes individuals who advance and elevate photojournalism by their conduct, initiative, leadership, and skill, or for unusual service or achievement beneficial to photojournalism and technological advances."
Scofield is receiving the Sprague Award for his efforts, which have – according to his nominating peers – "created an environment of excellence for his colleagues … his non-wavering support for NPPA membership and the Code of Ethics .. his infectious enthusiasm, and promotion of quality visual storytelling in a career that has spanned still, video, audio. and multimedia." Scofield was praised in his nomination for his mix of "great talent, leadership, humor, and friendship." "Kevin cares like no other boss on the planet," one wrote.
Even though Scofield doesn't look jolly in his press photo, I'm sure he's smiling on the inside. Congratulations, Kevin.
Read more about it at: NPPA.org.