Contributed by John Woods
Well, it happened.
No, not a car wreck.  And no, I didn't get a "dewie" after a long day of covering car wrecks.
I was assaulted.
And by a girl, none the less!  Well, I guess "technically" there is no gender, because I was assaulted by Mother Nature (insert collective groan)…
[flashvideo file=http://www.b-roll.net/tv/flvideo/2090.flv image=http://www.b-roll.net/tv/thumb/1_2090.jpg stretching=fill volume=90 /]
http://www.b-roll.net/tv/view_video.php?viewkey=fdadf96152ca6e640806
Here's that day in a nut shell…
Reporter Marcus Moore and I were out at the Kansas Speedway to slap together YET ANOTHER economy story.  The angle this time?  How racing events bring jobs to KC… compelling, I know.  However, the approach of inclement weather changed our fate, and we were sent to capture the storm.
This chase started just like the hundreds before it:  drive toward the convection, find the updraft, try to stay parallel to it – and by all means – stay ahead of it.
We did all of this… except for that last part.  Initially, when we found the rotating part of the storm, we did stay well in front of it as it dropped the tornado.  It was only moving 35mph and nearly parallel to I-70, so we had quite a bit of time to move when it grew close.  We would drive, stop, shoot, let it creep to within a mile of us, and repeat.
After about three or four cycles of repositioning, the tornado finally crossed the highway behind us to the north side of I-70.  I thought "Great!  We don't have to move as fast because we're in the clear."  Bad idea.  As you can probably tell from the video, we were not in the clear.  I had forgotten that just ahead of us, I-70 jogs back to the north.  On top of that, the tornado changed direction.  It turned back southeast… it came back across the highway… and it passed over my reporter and I.
And what's worse is that I let it happen.  I could have avoided the entire situation.  We didn't need to be that close.  We could have stayed ahead of the storm.  But we didn't.  Why?  Because I became overconfident.
There's something about being behind that lens.  I almost feel detached from reality.  You can be taping something a block away and feel like you're miles away.  I mean how imposing can a little black-and-white screen be?  When I'm looking through that viewfinder, I feel pretty safe.  And to feel that way is stupid, I know this.  But there's a sense of comfort behind the camera.  It's been my home away from home for years now.  I know it.  I'm familiar with it.  It's been a pain in my neck, an ache in my back, and I swear it's made my right eye nearsighted, but I love it.
Of course, there are no excuses.
A camera is not a bullet proof vest, or a bodyguard, or a "get out of danger free" card.  It's a hunk of plastic and glass.  Let's face it – I knew better.  I had chased storms safely for 16 years.  I knew the danger, and I went in anyway.  I made a bad decision, and because of that decision, we became the news.
So is this why "becoming the news" is one of our greatest fears as journalists?  Not all news is bad news.  Do we associate being on camera with only the horrifying events that we cover instead of the wonderful ones?  Or are we camera-shy to a fault, where we actually take a job behind the camera to ensure that we don't end up in front of it?  Maybe it's the simple fact that if you get in an accident with a big name reporter, the headline will read "DIRK IRONCHIN* (and one other) INJURED IN CAR WRECK".
* my apologies to any reporter with the same name as my fictional example.
Either way, I'm just lucky that neither of us were injured or (God forbid) killed.  Hopefully, 16 years from now, I can once again proclaim that I've been chasing storms SAFELY for 16 years.
Oh, and I'm suing the hell out of Mother Nature.  Hey, assault is assault!  If anyone knows her current address, I'd appreciate an email.
______________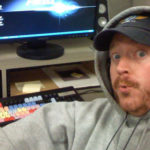 John Woods has been shooting news since 2002 – currently at KMBC in Kansas City. KC is also where he found my soon-to-be wife. Woods loves the midwest because his passion is storm chasing – he's been doing that since he learned how to drive. His craziest assignment was chasing down a fugitive who befriended a prison volunteer and escaped by hiding in a dog crate.