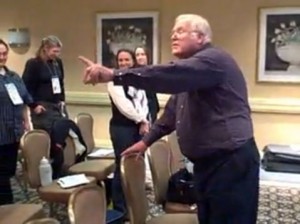 There isn't anyone in his audience that thinks John Gross lacks creativity, energy or passion. His work and his talks grab your attention and keep it.  The Minneapolis based one-man-band works at KSTP-TV, and at a recent Northern Short Course presentation, he had the crowd laughing, jumping and hitting the front table with a hammer.
Thankfully, Deborah Potter of NewsLab.org shot some of the experience at last month's Northern Short Course in McLean, VA.
Here are a few of the videos. Read more at Advancing the Story.