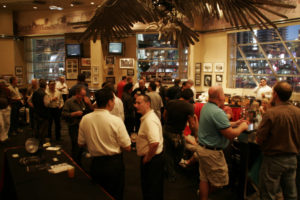 For me, the new products at the NAB show are nothing compared to the excitement of the annual b-roll.net BASH.
Back in 2000, I took my first trip to Vegas to see the biggest broadcast trade show. Before there were blogs, facebook and twitter, I posted info on a "meet up" at the Monte Carlo Brewing Company. About six people got together to share some stories and a have a few beers that first year. It was a blast – and has grown every year since.  The folks a Miller Camera Support asked to participate in 2004, helped step up the gathering to a real event with great food, drinks and prizes.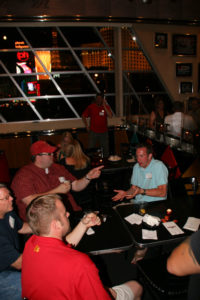 Last year we had nearly 200 "b-rollers" at the Harley Davidson Café and I couldn't believe the fun.
A little economic event happened at the start of 2009 and most companies cut travel and purchasing budgets. As expected the traffic going to the NAB show dropped from the year before, but that wasn't going to stop us from having a BASH.
Kennedy's ENG, 16×9, Inc, Xtender and long time supporters Miller Camera Support stepped in to help us celebrate "b-rollers" in style. As expected, our attendance dropped down to closer to 100, but that didn't damper the party. The planned 6-8pm party got extended an extra hour and a good number of prizes were given out.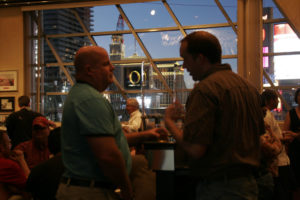 Thanks to everyone who helped, Mike Stanley from Kennedy's ENG and his wife; Shawn Dennison from Xtender; Gregg Hamlin and Michael Ibanez from 16×9,Inc; along with Greg Neal, Heidi Tobin, and Gus from Miller Camera Support. Andy Grossman and his beautiful wife Terry worked the door and played host to mobs of thirsty "b-rollers."
We had so much fun that we're already planning next year's event. The crowds will be back and we'll  be ready to celebrate at the next b-roll.net BASH.