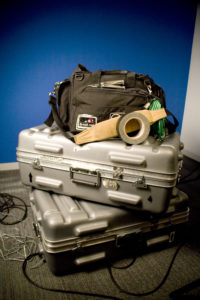 It was like going back to school and working on a term paper, but I recently finished an article that appears in the most recent issue of Broadcast Engineering. The March 2009 issue of the industry magazine just started shipping, and you can find my article, "What's in your bag?" on page 26.
It all started with a question posted on the b-roll.net FORUM titled,  "What is your favorite "indispensable" tool in your run bag?" You gave me some great ideas that made it into the column.
For the time being, you can only read the article through Broadcast Engineering, so pick up a copy today. Don't expect the magazine to be at the grocery store checkout – it's kind of a specialty magazine.
If you don't subscribe to Broadcast Engineering or see a copy at your shop, you can read the article online at: http://broadcastengineering.com/products/whats-your-bag/. You may have to register before you can read it, but it's free.
Thanks to Broadcast Engineering Editor, Brad Dick for giving me a shot at writing for print. It's was a fun experience, and I hope to have a chance to do it again. Thanks also to my fiancée, Clare for editing me, and making sure I dotted my "i's" and crossed my "t's."