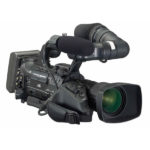 UK shooter and review artist, Philip Bloom takes a look at the new JVC GY-HM700 HD Camcorder. I saw this in person at the recent Northern Short Course. It's a cool little camera with the cheapest "tapeless" media you can buy ($16 for 8GB cards from Amazon).
There is definitely a battle in this "small shoulder-mounted" camera category between this JVC and the new Panasonic 300.
Thanks to Philip Bloom and CVP.com for doing great reviews.