From: Al Tompkins, Poynter.org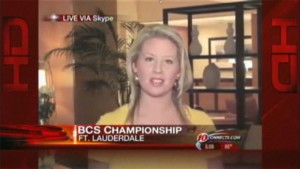 Monday morning, WTSP-TV anchor/reporter Janie Porter was on TV, reporting live from Ft. Lauderdale, Fla., on the run-up to this week's national college football championship game. She didn't have a big live truck accompanying her, or an engineer tuning in a shot or a photojournalist standing behind the camera and setting up lights.
Porter set up her own camera, opened her laptop, connected the camera to her computer, slipped a wireless connection card into her laptop, called up Skype and used her Blackberry to establish IFB (the device TV folks wear in their ears to hear the off-air signal). It all looked just great on air.
Read More (including an Interview with Ms. Porter) at Poynter.org.
This is sure to raise lively debate about VJ's and OMB's. Poynter has set up a chat for today (1-1:30pm ET , January 7, 2009)