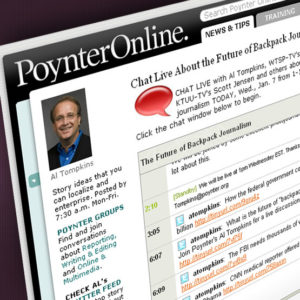 The "VJ Debate" has become a staple here on b-roll.net. The discussions on the b-roll.net FORUM are constantly filled with spark and flame.
Poynter.org has organized an Online Chat to talk about the future of Backpack Journalism.
Join Poynter.org's Al Tompkins, WTSP-TV's Janie Porter, KTUU-TV's Scott Jensen and others to discuss backpack journalism, Wed., Jan. 7 from 1-1:30 p.m. ET.
The initial questions include:
-is this good for journalism?
-what skills do you need to survive and thrive?
-what is the motivation behind the movement–is it all money?
I'm sure there will be many other questions to discuss.  I just don't know how they can fit it all into a 30 minute chat…