From: Al Tompkins, Poynter.org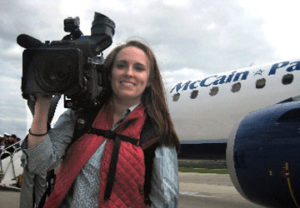 There are only a few things I am sure of in the world of journalism, but this is one of them: In 2009, journalists will be capturing more video and working alone more often. This is already happening in local TV, in the newspaper and online worlds, and as you are about to see, even CNN's photojournalists are out there producing entire shows by themselves.
CNN photojournalist Bethany Swain, who works out of the D.C. Bureau, got the idea rolling for a series of big projects called "In Focus." The series began in 2007 with the premise that the stories would be shot, written, edited and produced by photojournalists.
Since then, CNN photojournalists have taken on tough-to-tell stories for the half-hour show. "
Guns in America
" aired the same month the Supreme Court released its decision on the D.C. handgun ban. And the photojournalists have addressed more feature-oriented topics, like "
Giving in America
" during last month's holiday season.
The stories are photographed in HD and once all of the pieces are done, they are produced into a half-hour special. They are also bundled into a large online package and CNN.com includes still photos taken from the pieces.
One element worth studying in these stories is that there is no reporter narration. It is hard to create a "natpak" (natural sound package) of any complexity and have it hang together without narration. Frankly, I believe most stories benefit from narration, even sparse narration. But some pieces can work just fine without it. I discussed this and more with Bethany Swain.