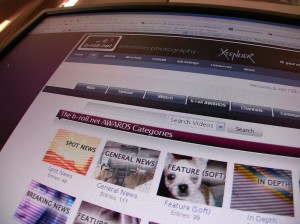 As of 12 noon ET today, voting for the 2009 b-roll.net AWARDS has begun.
Now it is YOUR turn to be the judge. Go to http://b-roll.net/tv and click on the b-roll.net AWARDS tab to see all of the categories and  entries. As long as you're logged in with you b-roll.net FORUM account, you will be able to vote for each story using our 5 point scale. Keep in mind there is a timer that delays you entering a vote until you've watched a portion of the story.
The category rules can be found at: http://b-roll.net/awards.
Judging:

All registered members of the b-roll.net FORUM will be able to vote in this contest. Each member will be allowed one vote per entry. Everyone will be able to vote for their own stories.

There will be two rounds of voting. During ROUND 1, voting will narrow the clips to the top 10 entries in each category. In ROUND 2, b-roll.net FORUM members will vote again for their favorite entries from the narrowed field of clips.

Once voting is completed, scores will be tabulated. The clip with the highest points in each category will be declared the winner. Second and third place will be awarded in the same fashion.

To vote, a logged-in member need only watch a clip and click on the 5-star scale to place his or her vote.

In our voting system, 5 stars is the best, and 1 star is the worst.
We're not expecting you to do this for nothing, so those who vote for the most number of stories will be eligible to win some cool prizes. Stay tuned for more information.