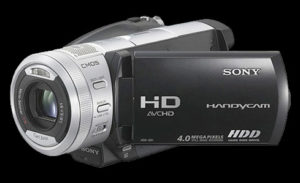 From:  New York Times via Gizmodo
Something to consider on your next shoot in microgravity, avoid hard drive cameras. According to David Pogue of the New York Times, the Sony SR1 didn't fair well in the famous vomit comet ride.
Matt Harding, famous internet dancer from Where The Hell Is Matt, had difficulties shooting in the "zero gravity" planes –  like the ones used by NASA.

Where the Hell is Matt? (2008) from Matthew Harding on Vimeo.
"In his 2008 video, one of the most memorable locations for his jig is inside a zero-gravity plane cabin. The company that provides those flights, Zero G, charged, at the time, $3,500 a ticket (and yes, Matt paid it himself). He had just bought Sony's first hi-def hard-drive camcorder, the SR1, and one of the Zero G employees was kind enough to hold it during the flight to film Matt's dance.

Except it didn't work. Up went the jet, then down, 15 times, in parabolic arcs, creating 30 seconds of zero-gravity effect each time—and under no circumstances would the brand-new camcorder record."
It seems the "crash protection" circuit shut down the camera because it thought it was falling. And in fact, it was…