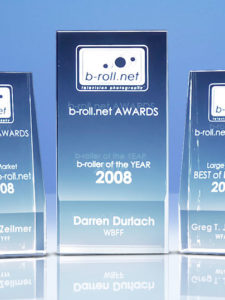 As 2008 comes to a close, it is the perfect time to reflect on a year of great shooting. Sure, you didn't always avoid the dreaded city council meeting, but you captured some great moments in top-notch, story-telling packages.
We want to see those stories!
Here are the basic rules:
1) UPLOAD your best work produced between January 1 and December 31, 2008 at b-roll.net TV.
2) ENTER your clip in individual categories starting at 12 noon ET on January 1, 2009.
3) VOTE. All registered members of the b-roll.net FORUM will be able to vote using our 5-point scale in two rounds of voting. During ROUND 1, voting will narrow the clips to 10 entries per category. In ROUND 2, b-roll.net FORUM members will vote again for their favorite entries from the narrowed field of clips.
4) WINNERS will be announced at the end of the second round, and the b-roll.net AWARDS trophies will be presented.
The official rules for this year's contest are online.
Thanks to Fujinon, Zylight and Anton/Bauer for committing to sponsor the AWARDS again this year. The contest is just over 3 weeks away. Start collecting and uploading your best work now!