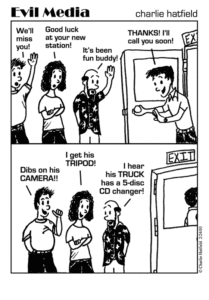 Kind of like spring cleaning, the re-design of b-roll.net has allowed me to revisit some classic elements of b-roll.net that haven't been seen in a while.
Many years ago, a talented photographer started doodling on his assignment sheets – and submitting them to b-roll.net. Evil Media was born. Charlie Hatfield is an award-winning investigative shooter at WVEC-TV in Norfolk, VA. His sketches show the fun and obscurity of our profession.
I'm proud to bring back the collection in a new and better format in hopes of showing off Hatfield's work – and possibly guilting him into bringing out some new work.
Thanks for making us laugh, Charlie.