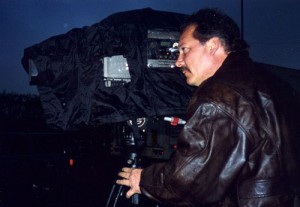 From: Susan Ottalini, CBS News Editor
"To all who knew Bryan Foster, long time freelance cameraman here in Los Angeles, he died 11/4/2008 at 2:30 pm at his home in Panorama City.
He has been fighting cancer in his colon/liver/lungs for about a year and recently opted to stop the chemotherapy. His family and friends were with him and he passed peacefully, fully expecting Barack Obama to win the election. Services and memorial to be announced asap.
He is survived by his three (grown) children Mercedes, Jesse and Max and one granddaughter, a sister and two brothers.
Bryan was 58 years old and had been an MP in Vietnam. He loved Las Vegas, Dewers Scotch (No ice, No water), Fishing, Cooking and His Family not necessarily in that order…He was a gutsy Cameraman who prided himself on getting the shot no matter what it took. He was very proud of his minor roll in the movie '15 minutes' where he played…a cameraman. He covered innumerable California fires, earthquakes, and other stories (breaking and planned) in LA and California and the Western States, the LA Riots, and did special reports for 48 hours, 60 minutes and other shows and other networks.
He was especially proud of his work in the Easter Islands for the CBS Show, Sunday Morning. His last trip to Las Vegas with Friends only a few weeks ago, left them amazed at his stamina and love of life. He will be truly missed by all of us who were lucky enough to be included in his circle of friends."
Wake, Viewing and Burial Information for Bryan Foster
Saturday 11/ 8/ 2008 2 pm to 7 pm
Wake at his Sister's home:
Brook Warden and Family
17041 Community Street
Northridge, CA 91325
818-717-8757
Sunday 11/9/2008
Viewing at Crawford Mortuary 10am – 8pm
8717 Tampa Ave. Northridge, CA
818-349-9701
Monday 11/10/2008
Burial at Riverside National Cemetery 10:45AM
22495 Van Buren Blvd
Riverside, CA 92518
(951) 653-8417