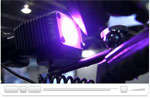 We roamed the aisles of NAB all day on Monday to see what new toys we could find.
Thanks to Andy "focusthis" Grossman for manning my tiny Canon HG10 (weighed down with great gear from Lectrosonics and zylight). Andy wanted to make it clear that he would have rather had a full size Sony on his shoulder.
Lectrosonics loaned us one of their brand new SR – Dual UHF Wireless Camera Slot Receivers, and zylight let us use a z90.
Sadly, we had to return the loaners at the end of the day…