From: Andy Grossman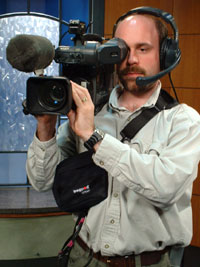 Too mobile for a tripod? Steadybag not quite what you need? Try bagpod, the lightweight support for extended hand-held situations.
This is a must-have for sports shooters. The padding is soft like buttah! Ryan Hunter, developer of bagpod, reccommends the support be tucked under the armpit. The idea is to relax your right shoulder, and have the bagpod support your shooting arm. This transfers the weight to the wide, grippy strap on your left shoulder. Once I got used to the feeling of carrying something on my left shoulder, I realized the burning sensation I usually get between my shoulder blades was not there. I tried to adjust the strap to hang lower in order to rest my elbow on top of the bagpod. However, that puts even more weight on the left shoulder. So in the end, Ryan's recommendation worked better.
I gave it to one of my fellow photographers, Shelly to try. She agreed that it took weight off her back and noticed her shooting seemed steadier, as well.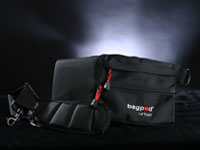 For you "run and gun" shooters, this is it. The main pocket of the bagpod has room for a wireless bodypack or cube, snacks, an UltraLight, or anything else you can hold in two hands. This is especially nice for you DVCpro shooters, as the pocket can stow a couple of tapes. There is a smaller pocket that I use for pens, 9-volts, and my trusty chamois.
Underneath is a Velcro loop to hold a coiled mic cable. This also works well as strain relief for your cable during live shots. So not only do you get the weight distribution during long hand-held live shots, you can prevent the video cable from being pulled out from the back of the camera.The bagpod's Velcro loop kept my cables neatly out of the way.
It was refreshing to not suffer through a 30 minute newsroom liveshot with an unsupported camera. The added stability helped when my blocking called for an MCU 20 feet away.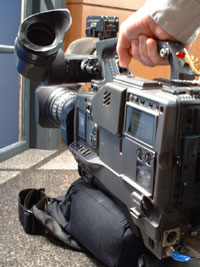 The shell is made of a heavy black cordura. Quality zippers keep all your stuff together. I've not used my bagpod long enough to attest to the durability of the foam filling, but I'm sure that future usage will put it to the test.
If I could change anything, I would add space on the top for those frequently used items. I could use a couple stitched loops sized to fit pens, and one larger loop for a Mini MagLite.
All in all, bagpod offers great camera support, storage, and a good surface for low angle shots.
bagpod eased that pain in my back. Now, if it can help with those "pain in the neck" producers…
NOTE: This product is no longer manufactured.