From: Terry Toller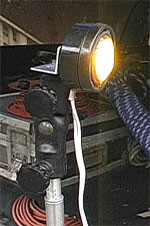 I have seen several posts asking how to add more lighting to outdoor shoots. Here is my answer…
I purchased a set of three bookshelf lights at Home Depot. They are 12 volt lights and work fine with BP90s, Gelcells and even off of your car battery. You get three lights for $30. I have 20 foot cord with 4 pin XLR connectors as well as an off/on switch.
I mounted one of the lights onto a peice of angle aluminum and attached a norman umbrella adaptor. There are cheaper adaptors, check your local camera store.
This light has an amber gel placed over the front glass. I use it when interviewing firefighters or cops on scene at breaking news stories. It is only 20 watts but adds enough light to seperate the subject's head and shoulders from a dark background.