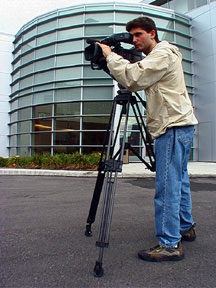 From: Kim Fatica
Seems like it's been a long time since any company has offered-up an improvement or innovation for ENG tripods. Sure, the emergence of new, lighter digital format cameras has forced the industry to streamline their heads to make them lighter. An eight-pound head is simply overkill for today's smaller DV cameras. But what about the support?
Miller's new Sprinter tripod has some nifty innovations that grabbed my attention right away. It's not that they've reinvented three-legged support, but they have found some ways to make setup and portability much simpler.
At just a little over six pounds, the two-stage carbon model Sales Manager Gus Harilaou of Miller graciously loaned me was a hit at WKYC where the model was used in the field for several weeks. The first thing the staff noticed before we even saw the tripod was the heavy-duty nylon case (model 872), extra-roomy and with more compartmental storage space than most other cases we've seen. Besides generous pocket storage, the case provided something I've not seen in other tripod soft cases: A padded head cradle which allows the head to nestle safely inside the case to prevent it from getting banged around in transport. The case also has a heavy-duty vinyl window for placing an ID card.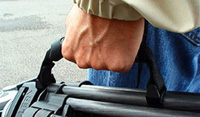 There are three outstanding features to this set of sticks, all convenience items everyone agreed were excellent upgrades from the standard tripod setup we've seen in years past. Toting a tripod is always a pain, and not everyone, including myself, likes to carry it like a machine gun slung over a shoulder. Miller has fastened their Sprint-Grip handle at the top of the first stage near the leveling bowl where it provides perfect balance for carrying. The thick molded rubber handle is quite comfortable, even for most reporters' hands (hint-hint).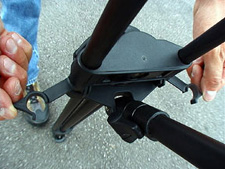 Transporting the tripod is easy with the Sprint-Grip, but keeping the legs together with bungee cord would be impractical for this slick little 'pod, so Miller gave it a set of transport clips. These hard polymer clips snap firmly to the legs without dangling cords to get in the way after they've been released. Our only concern was that these clips which swivel around the legs and resemble wings, might break in severe cold weather or from getting banged around in a trunk. They are fairly rigid, but will flex.
The most brilliant features of this tripod are Miller's Sprint-Loks, the leg releases that are easily accessed without having to bend over to the floor. Both stages are released from the same spot, with the curved ergonomic levers nesting between the first and second stage legs.
Not all of the staff photojournalists were impressed with the rigidity of this tripod fully extended. There appeared to be a slight wobble or flex, noticeable if the pan head was set with a heavier drag setting. The only times this would be a hindrance would be on long shots with the extender in place, zoom fully pushed in, or when fine close-up movements are needed; two very critical times when a tripod counts most. Our Miller rep assured me the design had been beefed-up since we first had the pod diminishing flex and providing for a more stable support.
Miller touts their newly redesigned 100mm ball leveling mount (bowl mount) as an added stability feature. Miller is a respectable company that produces professional equipment, so quality and service is no issue here.
Definitely consider this set of sticks for your next ENG support upgrade. Miller took the time to address quirky set-up problems with this unit, creating a support system that is lightweight, easily transportable and simpler than other systems to use under the daily rigors of newsgathering. The fully adjustable midsection center spreader allows the tripod to sit as low as 16 inches above ground while adding to stability when fully extended. This is one tripod few reporters should be without, though you might enjoy carrying this set yourself.