From:  Stephen "Cameragod" Press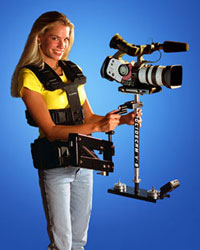 I've been flying Steadicam and Actioncam rigs for some time now. I even used the Glidecam Gold series once and it was Ok. But when I used to get asked what I thought Glidecams smaller mini cam rigs I had to say no idea. In theory they should be great. Light camera on a light rig with the added advantage of the mini cameras own built in electronic stabilization it should be fantastic.
So when I finely got to use a Glidecam V8 with a PD150 for a short flim shoot I was in for a nasty surprise.
Don't get me wrong, bits of this rig are very good. The vest is cleverly designed, easy to get in and a comfortable fit for a range of body sizes. The sled is a bit basic and to be honest a bit fiddlier than it should be but in all ok for the money.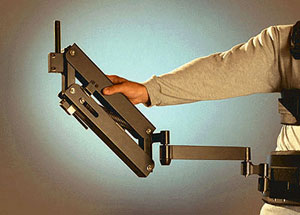 Where the rig sucks big time is the arm. It's ugly, not just in looks but it just doesn't work as well as it should. It won't go down low or up high, which means I hope you want an eyelevel shot cause without a re-rig thats all you get. Forget going through doors because the big ugly arm is not going to fit easily in any doorway.
Physically it's a nightmare to fly. It only really works well if you fly it biased to the left side of your body.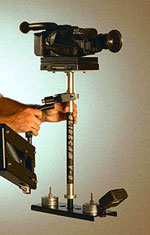 That's OK if you have a monitor mounted on the sled but if you were hoping to save cash and use the LCD on the left side of the camera, well you can't see it in the best position to fly. In the end I had to fly the rig far away from my body so I could see what I was shooting which makes more strain on your back. 10 min in this rig was worse than 40 min on a Steadicam rig over 3x the weight.
I don't want to trash the rig completely. With a lot of effort and pain you can get a good stable move, but I can't help wondering why they don't put a better arm on it.
It's like buying a new car and finding out that you need to hitch up a team of horses to pull it around.