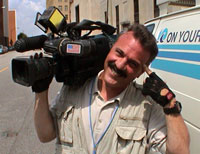 Looking back on it all, I'm sure a momentary lapse of sanity must have had something to do with my decision to return to "broadcast news". I had it made - a good paying job in the world of corporate television, weekends and holidays off - and I gave it all up to return to my roots in television news. You know what is even stranger than that, I feel lucky for the opportunity.
Let me explain.
I graduated from James Madison University in 1983, and got my first job in TV news that same year. I spent the next ten years working both behind and in front of the camera. Then in 1993, I was offered a job shooting and producing videos for Newport News Shipbuilding. I have to be honest, this was a great gig. We used top of the line broadcast standard equipment, edited non-linear, and had a liberal budget. I am grateful for the valuable experience I gained over the eight years that I worked there. I had originally planned to work there for 20-years. After a while though, I got tired of spending most of my days in the same place, behind the shipyard fence. I was equally tired of commuting from my home in Virginia Beach, to my office at the shipyard in Newport News (about a forty minute drive). There was some occasional travel with Newport News and "sea trials" to shoot when a new ship was ready, but for the most part, I was spending most of my time in the same place.
I could no longer resist the urge to return to the job I enjoyed most; being a photojournalist. It's true, the producers of today's newscast don't seem to have much use for well shot stories or even covering visual material. It seems good "TV News" these days is more about talking heads and sleazy subject matter than photojournalism or story telling utilizing the visual elements that are at the center of our medium. None the less, it is a profession unlike any other in its redeeming qualities. Our pictures have the ability to evoke all manner of human emotions and enable people to witness history up close, for better or worse. There is the opportunity to travel to many places and meet many people, each day working on something new. Sure, these memorable moments come but a few times a year, but this, my friends, is why we do it.
This is why I came back to television news.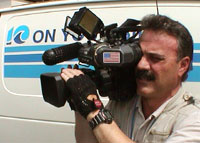 Truthfully, some days I wonder about that decision, but I remain optimistic I am doing what I want to do, its up to me to make the journey worth while.
I was asked recently if I thought the business had changed much during the eight years I was away. The answer to that question has to be both YES and NO. As I said earlier, there seems to be less emphasis on story telling with pictures and natural sound. The long standing distrust between producers and there people in the field is even worse now, from what I have seen thus far anyway. It never ceases to amaze me how a producer back at the station knows more about the status of a story than the crew at the scene.
I could go on but perhaps the answer to the answer to the question above is what was bad about the business then, is bad now...but what was good has the potential to be even better today. The technology in the business continues to make rapid advancements opening up new avenues for creative applications.
Finally, we live in an age when the service we provide to the public has probably never been more important, nor in demand.
Art Kohn
WAVY TV
Virginia Beach, VA
[5/29/02]