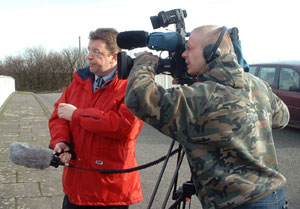 "Beckham, Beckham" The road at the rear of the Bernabau stadium in Madrid was crowded with soccer fans chanting the name of Real Madrids new signing. Amongst them were dozens of stills photographers and a couple of TV news crews lucky enough to be in the right place at the right time. Nobody had known that David Beckham was going to take an impromptu tour of his new home ground. The gate opened, I thumbed the record button on my DSR 570. Two police motor bikes eased passed me sirens wailing, the burly Sergeant snarling at me to move back. I ignored him, too excited by the prospect of an exclusive for the BBC (the other crews were all local Spanish guys). A black Mercedes came into view, I swooped, as I focused through the window I suddenly realised that it wasn't Becks inside, there was another identical car coming up behind. Before I had a chance to move both cars had sped off. For a split second I froze and considered going back to the Sat truck at the front gate with a "so near yet so far" story. I knew that wouldn't cut much ice with the network producer and the other BBC cameraman in town, a tough Scotsman who looked like he'd been there seen it and done it. I began to run, still recording I sprinted along the middle of the road (I'm sure the BBC's health and safety department wouldn't have been happy), dodging cars and scooters I somehow managed to catch up as the Mercedes stopped at the traffic lights about two hundred metres away. The car had tinted windows, I opened up the iris as much as possible but it was still difficult to see inside. Then a couple of snappers began firing off the flash on their stills cameras - there he was - inside clearly illuminated by the white light, was Mr David Beckham, formerly of Manchester United and the current Captain of the England soccer squad.
This was my first experience of foreign news gathering, I loved it. The buzz and excitement of following a big story, in on the chase to get the first and best pictures. That night I allowed myself a couple of Mojito cocktails in Havana (my favourite bar in Madrid, just off the Puerta del Sol if you ever find yourself in that part of the world). I didn't dare have too many though as the following day it was back to the viewfinder. We had to shoot a three minute "colour" piece on what Beckham would do with his life in Madrid, what school would his kids go to? Where would he and his Spice girl wife buy a house? There was also of course the compulsory vox-pops with the locals. I then had to have it cut and fed by six pm. No probs. Job done, everyone happy and back on a plane to Manchester where I'm based.
My official title is Multi-skilled Operator, I'm a full time member of staff employed by the North west region of the BBC. I shoot and edit though in theory I could be called upon to operate the Sat truck, mix studio sound or work as a VT Op in the record/replay area. This is the way all the BBC regions prefer to be crewed, allowing them greater flexibility to fill rosters and keep the news coming in. I joined the Beeb in December 2002. At the time I was working for their rivals - Independent Television News based in London. ITN were good employers, they paid well and gave me opportunities I probably would never have had any where else, but they were seriously strapped for cash. ITV, there main client had slashed their budget by nearly ten million pounds a year and they were having to make redundancies left, right and centre. The BBC on the other hand is uniquely funded by the TV license which every British household must pay each year. This means the Beeb can afford to give its staff proper training, they also pay overtime which ITN refuse to do.
The kit we use can vary, generally my crew car would be stocked with the following items:
Sony DSR 570 Camcorder (super wide Fujinon A-10 lens), with Pag top light
Two Tran 20/20 Radio Mics and receivers
Sennheiser 416 Rifle Mic
Sachtler Tripod
Set of three Dedo light
And of course all the bits and pieces that we all cram into every nook and cranny: Lastolites, XLR and BNC cables, Batteries, spare bulbs, wet weather gear and hiking boots.
I work a shift system that varies depending on what job I'm doing. For example if I'm expected to spend the day shooting and then return to operate a studio camera for the evening programme my hours will be 10am till 7pm. On the other hand I may be on a shoot/edit shift whereby you will start and finish when the news desk tell you. Like most News and documentary cameramen around the world I've learnt not to make too many social plans on the days I'm working.
I guess what I do is typical of regional news crews around the world. Sometimes it's quiet, I sit in the staff canteen, read the paper and make those important phone calls I've been putting off for months. Most days though are a kick arse scramble. The phone rings just as I get into the shower. With a slice of toast still in one hand and my cell phone lodged between my shoulder and my ear I jump into the crew car (which by the way is a Peugot 806). First job of the day: court arrivals, how we all hate this side of the job. There's never anywhere to park so you have to hump your gear half way across town, you get there and then have to fight through the crowd to get a good spot. Johnny Scumbag arrives with a coat over his face, we all jockey for position only to find out he's not the guy we wanted. It's getting colder, you can't wear gloves because then you can't control your iris and zoom demand properly. Finally the person you need shots of arrives, he or she is surrounded by tough looking family members who push you out the way and block your lens with there hands. Suddenly the excitement is over, you've got the shot you need. The newsdesk is on the phone, there's been a fatal house fire - can you get some shots of the scene and then bring them back to the office? You consult your map and head through the choked traffic to the location. Despite breaking every road traffic law you get there and all the firemen have gone home. Thinking quick you knock out 10 good shots (always including a pull focus from a tree as reporters seem to think this is the best shot they've ever seen!). Back at base you go to grab some lunch only to be interrupted by the shrill ring of your cell. "Of course I can drive to the other side of our patch, shoot and edit our lead story by 6pm and then crew the live link off the back of it, no problemo."
Sometimes what we shoot is difficult, I've had to hold back tears while filming five year old Siamese twins playing on there skateboard before tests to decide whether they were going to live or die, I've had to mic up and try to make small talk with parents whose children have just gone missing and I've no doubt that sooner or later my career will take me to war zones and natural disasters, the horrors of which I can't begin to imagine. Despite these and other downsides to my work (the long hours, the relentless requests from Reporters and the assignment desk, the back pain that is often so painful I limp and the fact that I'll never be rich), I do love it. When people ask about my job, I always give the same answer: It beats working for a living. Nothing surpasses the buzz from seeing your pictures leading the newscast. Knowing that I was there, I captured the images that people will be talking about that night over dinner or in the bar. Maybe one day I'll grow cynical, or become bored but whatever happens I want to be able to say "I did the things." how many other careers would give me the opportunity to say that.
Send us your news and info.... E-mail us at support@b-roll.net or drop a message on the b-roll.net Message Board, and tell us what you think.