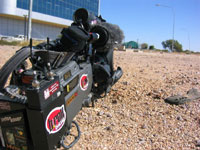 Working for BET Nightly News and CBS News I was able to take b-roll.net to Africa with President Bush. It was a rough trip. 5 countries in 5 days. We met Monday morning at Andrews AFB to start our long journey to Africa.
Our first stop was Senegal. We arrived in Senegal late Monday night and we had to get up early in the morning to head to Goree Island or to the airport and be a part of the motorcade... Beautiful but unbelievably hot and humid. After spending * hours baking on Goree Island we went back to the filing center (room temperature AC) to file, edit, and feed our stories to the U.S. and get ready for our next location, South Africa.
After an 8hr flight we landed in South Africa where it was cold. Yeah Cold!!! We got to South Africa at 4am where it was (40 degrees F.) After the long flight with no sleep I was out shooting a protest in front of the U.S. Embassy in South Africa. No Starbucks. By noon- interviews and b-roll at a township in South Africa.
Day 3, a day trip to Botswana, where I did a few stand ups, some b-roll and interviews. I wasn't with the President for his tour of the bush and the lessons in love the elephants put on display. We left Botswana around 6pm local time and we headed back to South Africa. The next day South Africa to Uganda.
We spent less than 5 hours on the ground in Uganda, lots of mosquitoes and we discovered a stowaway from South Africa. After we unload all the gear from the plane and reloaded it's off to Nigeria. Where we spent the night in a (-) 4 star hotel. I was missing my bed and shower pretty seriously by now. After a speech at a conference, not unlike every Presidential speech I've shot in Washington in the last few years, it's off to the filing center and finally on the plane and on my way home.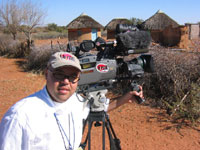 Andrews Air Force Base looked awfully good at midnight but I still didn't see my pillow until 4 am. But this was my dream trip. I have always wanted to be a part of the White House travel pool. It's my dream job and I would like to thank all the guys from the network who helped me out. They kept the "rookie" on the trip from making any major mistakes. Of course having some good cigars in my bag helped me make friends.
Send us your news and info.... E-mail us at support@b-roll.net or drop a message on the b-roll.net Message Board, and tell us what you think.