Writer of Light: The Cinematography of Vittorio Storaro, ASC, AIC
Compiled and edited by Ray Zone $39.95 The American Society of Cinematographers
Reviewed by Kim Fatica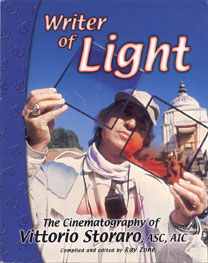 Lighting is probably the most overlooked and underutilized tool of our craft as tellers of stories, and few people can convey the importance of light like cinematographer Vittorio Storaro. Why would a television photojournalist wish to read about a cinematographer's passion for light? Coppola, Bertolucci, Beatty, Scorsese. Storaro's filmography is as diverse as a photojournalist's portfolio: Apocalypse Now (1979), The Last Emperor (1987), Dick Tracy (1990), Bulworth (1998). Each film demonstrates Storaro's mastery in the use of light in a variety of settings and conditions.
Storaro is considered to be filmmaking's finest lighting cameraman and articulates his passion in this compilation of interviews taken from past issues of American Cinematographer magazine. Storaro's approach to lighting is almost Zen-like, as he relates the use of light, shadow, and color to his work:
(Zone): "You've also referred to these [lighting] tools as pen and brush to tell the story as a writer, a writer of light."
(Storaro): "Yes, because I believe that we have a kind of grammar. Light has every possibility with its structure and modification from direct light, bounce light and diffusion light to all the different moments during the daytime with natural light, aurora, dawn, morning, day, afternoon, sunset, dusk. Each one has it's own meaning. Each one has a specific emotion."
"I think that if we lived 24 hours a day under the sunlight, in daytime, we would become crazy. What is really important for us is to search for and reach balance. To find equilibrium is a finale in life. In most of my work, I was just dealing, in an unconscious way, with emotion. Later, as I became more and more knowledgeable, I became more conscious of what I was doing. But basically, I was searching for equilibrium, to balance these two opposite forces."
Perhaps this is a bit deep for most daily general assignment photojournalists, but if this doesn't geek a few lighting enthusiasts, nothing will.
Other gems in this book include a chapter written by Garrett Brown, the inventor of the Steadycam, on spending a week working with Francis Ford Coppola and Storaro on the set of "One From the Heart" (1982):
"For his part, Francis supported or sometimes endured Vittorio's penchant for shots that became extravaganzas of lighting, With suns coming up on screen and immediately going back down...and with lights spontaneously fading in and out as Vittorio orchestrated mystical, color-sensitive auras to intensify the actors' personalities and moods with wavelengths that influence fundamental emotional and metabolic responses from the viewer."
That could be any daily assignment reporter complaining about the length of time it takes for some camera operators to light a simple interview. After reading that passage, I find no guilt in setting up a backlight.
You aren't going to find any lighting secrets in this book, no elusive formulas for matching your tungsten to daylight; for getting good skin tones under fluorescents. What you may get from this is inspiration to grab a copy of The Last Emperor or Dick Tracy, study Storaro's use of light, shadow and color, and purchase Rosco Cinegel's "Vittorio Storaro Collection" of gels for your next major specials shoot.